Sea Treasure
Thanks to its mild climate and over 2,000 hours of sunshine a year, the Medulin Riviera is the perfect choice for your holiday throughout the year. Many people choose the Medulin Riviera as their holiday destination in the summer months when they can enjoy the pleasures of swimming in the sea, sunbathing on our beaches, and many different water activities. But, when the weather is not suitable for being on the beach, such as, for instance, in autumn, spring and winter, you can take a walk along a vast range of footpaths or a ride along some of the most spectacular coastal bike routes .
However, the sea with its endless blue waters surrounding the Medulin Riviera is much more than that – the sea has so much more to offer. Its underwater depths hide a varied marine life to discover by scuba diving ili snorkelling.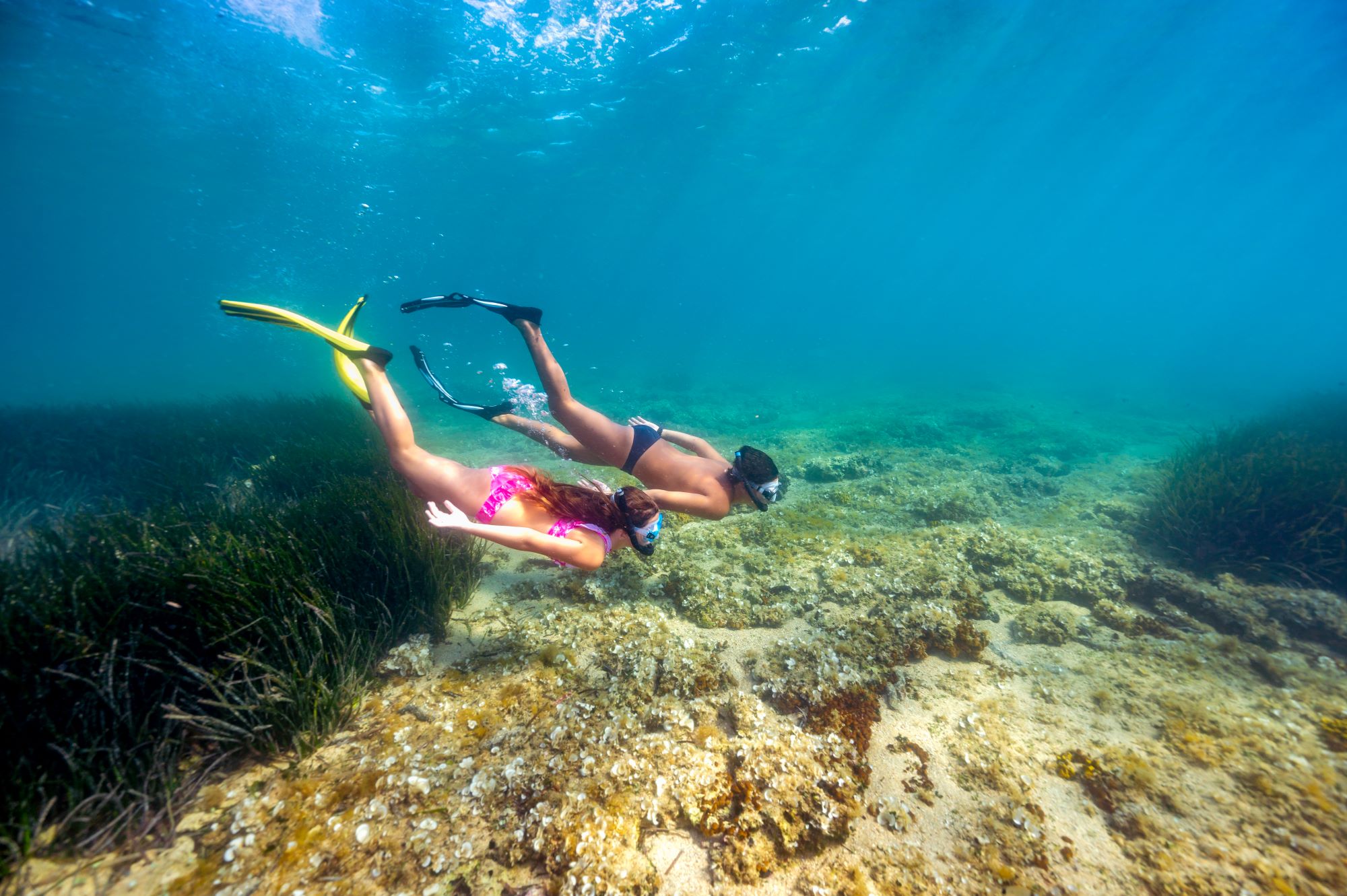 All sorts of fish and shellfish species, and many other seafood delights, you'll have the chance to observe, are caught by our fishermen and served on the dining tables of our restaurants as fish specialities. In the local restaurants, you'll get the chance to delight your palate with flavours of exquisite specialties made from different sea delicacies. We strongly recommend fresh fish cooked in many different ways, seafood stew (brodet), crabmeat, but also cuttlefish risotto.
If you spend your vacation with us in the summer, make sure to visit our sea celebrations – Hook & Cook Festival and/or Fishermen's A Cappella Night – which, each in their own right, reflect our connection with the sea.
The Hook & Cook Festival, a seafood gourmet event held at the fishing dock in Medulin, brings local fishing traditions closer to younger generations in a modern and innovative way by bringing together urban music and street food concept, all in one place.
As a gourmet event, the Hook & Cook Festival celebrates the love of the sea, gathers fishermen, chefs, and musicians, and brings seafood specialties closer to a broader audience. Top chefs, even those with a Michelin star, cook on boats and prepare dishes from the catch of local fishermen. This genuine culinary adventure offers dishes made from very healthy but somewhat disregarded pelagic fish – tuna cheeseburgers are always on offer, and, this summer, the street food dishes included tuna poke bowl, balik ekmek, filet o' bun and tuna tsukune. Who knows what will be on offer next summer?
The story about the sea and fish is, in a more traditional way, told by the Fishermen's A Cappella Night event. Make sure to attend this event held in Medulin and Premantura in July and August. Enjoy listening to a cappella singing, eating grilled fresh sardines – the simplest and the most common way to cook this seafood delicacy, drinking a glass of local wine, and relaxing just as our elders used to do. There is also a corner for the youngest visitors where they can actively engage in fishing-related activities.
And if you decide to visit the Medulin Riviera outside the peak tourist season, look out for an outdoor exhibition of the series The Art of Fishing – The Art of Living in one of our villages and get to know the local tradition – of the fishing trade – displayed on large boards. Even fishing gears are on display, such as creels, harpoons, accessories for pathing nets, and especially for this occasion the replica of a batana – a local traditional fishing boat.
And if you want to have a go and try to catch some fish yourself, take your chance at the Big Game Fishing event. Sail into this great adventure out in the open seas off the coast of Kamenjak and Medulin archipelago. You'll set off on this adventure on a fully equipped ten-meter-long boat accompanied by an experienced skipper, and who knows, perhaps you'll be lucky enough to catch a big fish…